YSW ACCU-TREM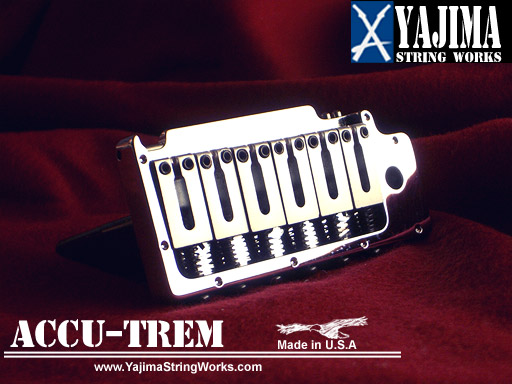 ---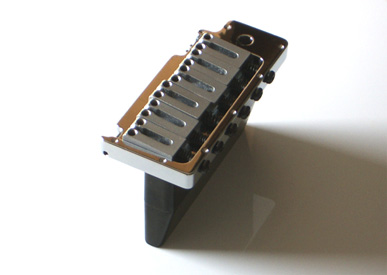 The YSW ACCU-TREM Guitar Tremolo Bridge uses the highest quality
material with a patented super hard steel alloy bearing system to ensure
excellent return to pitch accuracy, maximum tone, sustain and durability.

| | |
| --- | --- |
| | Right side : Two balls support the post |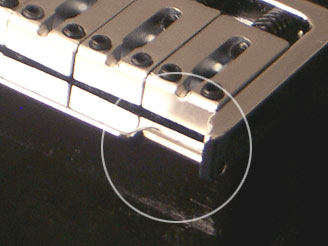 A horizontal cylinder supports the left post.
(NO knife edge is here)





The stainless steel "no wobble" vibrato arm gives the player a
superb "feel" and years of reliable, trouble free service.
You can adjust the rotation
torque of the arm



The unit can be used as a replacement bridge for Fender American
Stratocaster's routing configuration without any modification to the body.


Version without the cosmetic dimples is also available.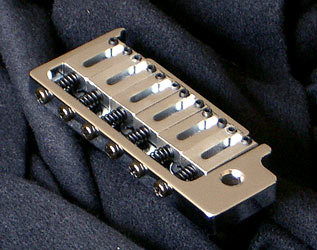 YSW ACCU-TREM

String spacing : 2 1/16
Bridge plate : brass
Sustain block : zinc *
Saddles : steel
Arm : stainless steel

Made in the USA.

All mechanical construction of the ACCU-TREM is Licensed by
Hipshot Products.

Available in chrome, black and gold finishes.


* Since this unit uses more metal for the base plate ,
it does not require use of a heavy sustain block to get
optimum balanced sound.